OSHO Mystic Rose Meditation Group & Facilitator Training
in beautiful and mystical Sedona, Arizona
August 8-28, 2021
Pre-meeting August 7, 2021 afternoon
Daily 10:15 AM -1:15 PM
facilitated by Indivar Gerald Bronstein M.D. and Chaya Mueller Bronstein
at the Sun Moon Studio for 1st and 2nd week
at the Sedonya Conscious Living Center 3rd week
3 hours a day for 21 days
$1540 Mystic Rose Group and Facilitator Training
$880 Mystic Rose Group
The Facilitator Training can be booked in addition to the group
click poster below to see in big: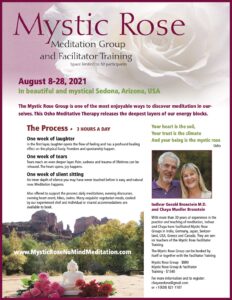 Daily Program
Also offered to support the process: daily meditations, evening discourses, evening heart event, hikes, swims.
Many exquisite vegetarian meals, cooked by our experienced chef. Individual and shared accommodations are available to book.
The Mystic Rose Facilitator Training will be held for 4 afternoons every week during the Mystic Rose.
The training is booked as an addition to the Mystic Rose Meditation Process.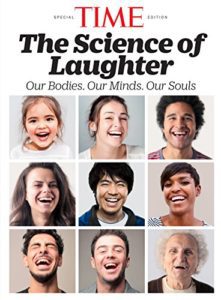 Below is a link to an article including a letter to the editors of TIME magazine on the benefits of the 3-weeks Mystic Rose Meditation:
https://www.oshonews.com/2018/10/23/the-science-of-laughter-time-special-issue
Indivar Gerald Bronstein M.D. and Chaya Mueller Bronstein
are the facilitators of these groups, events and trainings. They have more than 30 years of experience in the practice of meditation and have lead  different forms of this practice all over the world in India, Germany, Japan, Switzerland, USA, Greece and Canada. They are certified Mystic Rose and No-Mind Meditation leaders as well as senior trainers of the Meditative Therapies Facilitator Training.

No-Mind Meditation Group and Facilitator Training
For 7 days 2 hours a day
November 6-12, 2021
$740 No-Mind Group and Facilitator Training
$390 No-Mind Group
Facilitator Training can be booked in addition to the group
http://www.mysticrosenomindmeditation.com
Daily program

The No-Mind Meditation Group Process consists of a two hour session every morning.
Included in group: 2 evening events: a night walk in silence and an Osho Video discourse
The No-Mind Facilitator Training, that can be booked in addition to the group, consists of four afternoon teaching sessions to obtain the qualification as an No-Mind Facilitator.
Save
Save
Save
Save
Save
Save
Save
Save
Save
Save
Save
Save
Save
Save
Save
Save
Save
Save
Save
Save
Save
Save
Save
Save
Save
Save
Save
Save
Save
Save
Save
Save
Save
Save
Save
Save
Save
Save
Save
Save
Save
Save
Save
Save
Save
Save
Save
Save
Save
Save
Save
Save
Save
Save
Save
Save
Save
Save
Save
Save
Save
Save
Save
Save
Save
Save
Save
Save
Save
Save
Save
Save
Save
Save
Save
Save
Save
Save
Save
Save
Save
Save
Save
Save
Save
Save
Save
Save
Save
Save
Save
Save
Save
Save
Save
Save
Save
Save
Save
Save
Save
Save
Save
Save
Save
Save
Save
Save
Save
Save
Save
Save
Save
Save
Save
Save
Save
Save
Save
Save
Save
Save
Save
Save
Save
Save
Save
Save
Save
Save
Save
Save
Save
Save
Save
Save
Save
Save
Save
Save
Save
Save
Save
Save
Save
Save
Save
Save
Save
Save
Save
Save
Save
Save
Save
Save
Save
Save
Save
Save
Save
Save
Save
Save
Save
Save
Save
Save
Save