Gypsy Tarot
In this reading you receive a picture of your life situation, looking at the past, present and future. Chaya uses her intuitive skills and the map of the Gypsy Tarot to discover your hidden potential and the influences around you. She has a caring, light way of helping you find new perspectives, receive answers to your questions and to recognize your own beauty. A very clarifying and uplifting experience!
The Gypsy Tarot is Chaya's specialty. She uses regular playing cards in this age-old technique. She has taught Gypsy Tarot in many courses to numerous fellow travelers and seekers along the way.
Palm Reading
Palm reading, otherwise known as palmistry or chiromancy, has its roots in Indian astrology and Roma fortune-telling.This reading combines the science of studying the shape, size and lines of the hands and fingers, with the art of tactile intuition. Your personality and gifts are revealed, as well as the tendencies you are born with and the choices that show the direction your life is taking. Often giving deep insights, it can be a lot of fun as well.
Chakra Reading
Reading the chakras in the energy field of your body can give understanding and insight of underlying patterns in your life and can help to resolve issues and bring a deeper knowledge of yourself. Having a chakra reading is like having an energy health check of the soul.
All Psychic Readings
are given by phone, or on Zoom, Skype, FaceTime or in person:
20 minute reading   $55
30 minute reading   $75
45 minute reading   $110
60 minute reading   $150
90 minute reading   $200
Couples Reading
Relationship with your partner is oftentimes delightful but sometimes also confusing or painful. In a Couples Reading we look together with eyes of love into your present situation. To see things as they are brings relaxation and understanding, that enables you to enjoy deeply your relating as well as to recognize the moments when old patterns are ready to dissolve or new possibilities are arising. Chaya has a wonderful knack to reach lovingly to the depth of issues that might impair the flow of love as well as to highlight the jewels in the connection.
45 minute reading $150
60 minute reading $200
90 minute reading $250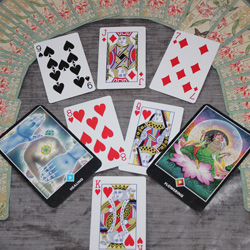 Save
Save
Save
Save
Save